Effective delivery of raw materials into industrial facilities requires rail yards and access to the main rail line. A specialty product manufacturer contracted the civil engineering department of ALS, Inc. to design a new rail yard in a semi-urban setting to facilitate the critical delivery of tank cars to the manufacturing facility.
The yard and lead lines include two miles of rail, multiple switch points and a bridge over a Harris County Flood Control District (HCFCD) canal.
The project included: drainage design, flood plain management, environmental controls, right-of-way surveys, topographic surveys, design surveys, boundary surveys, construction stakeout, geotechnical investigation and engineering, storm water detention, flood plain and volume mitigation. Coordination of multiple owners, attorneys, and various public jurisdictions are utilized within project completion.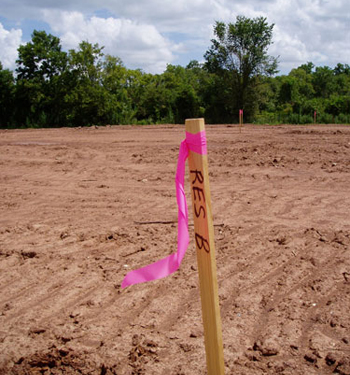 A development company was establishing a new 11,500-acre master planned community, in Houston Texas area Fort Bend County. ALS, Inc. was contracted to provide the following services for 54-acres of several sections;
boundary and topographic surveys
preliminary engineering
engineering for permitting of public utilities
paving and site grading
platting
construction management
oversight on construction observation
ALS, Inc. coordinated permit applications through local cities, Municipal Utility Districts (MUD) and Levee Improvement Districts (LID). The project was designed, permitted, and constructed on schedule.
An architect/owner was recently developing the first section of a 64-acre site, which was to include three large commercial reserves, right-of-way and multiple single family residential lots. ALS, Inc. was contracted to provide a storm water detention component. The firm coordinated with the local drainage district and certified platts of the property through the appropriate city.
For several years, ALS, Inc. has been providing engineering planning and survey of 2.5 miles of natural gas distribution pipeline. This complex project includes survey, engineering planning and construction documentation, permitting, construction staking and the coordination of various submittals. The project also called for boring of several crossings of creeks and highways. The ALS, Inc. team to coordinate with ten different government and private agencies to secure multiple easements and other construction approvals.